ECo-C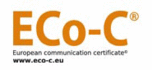 With the ECo-C - european communication certificate you prove your knowledge in the field of personal and social competence:
Your are able to work in a team

You are able to set-up your own targets and work on reaching them

You are able to recognise conflicts and work on solving them

You know the main tools and methods of communication and how to use them
Papilot, Institute, Ljubljana has 4 certified ECo-C trainers.
Want to get certified? Please contact: doroteja.volovec@papilot.si or visit www.eco-c.eu.